Announcing a SALE AT MY WEBSITE and here:
As the creator and host of the "EVERYDAY BLESSINGS FOR CATHOLIC MOMS" EWTN TV series, I'd like to announce the First edition DVD is NOW AVAILABLE! It includes 25 segments of the EWTN's TV series "Everyday Blessings for Catholic Moms." It's so nice to have the first 25 segments all in one place. :)
Many mother's study groups are using this DVD along with my books to gather together and learn more about their blessed vocation of motherhood as they share their Faith as a Catholic woman.
This DVD is available on sale for only $15.00 with any order of ten or more books from this website to be used for a group study.
From the EWTN website: "Host Donna Marie Cooper O'Boyle shares a variety of parenting experiences with viewers. Topics range from building a strong faith base early in your children's lives, to teaching respect, promoting family values, and schooling issues. A program whose short but meaningful lessons will be much enjoyed, and easy to put into practice, by Catholic mothers, fathers, and grandparents. 1 disc. 2 hrs."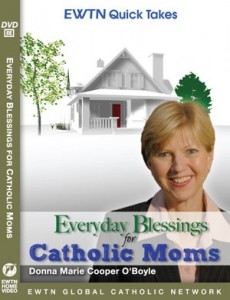 RETAIL Price each: $20.00,
but on sale for $18.00 each
INTRODUCTORY SALE: Two for $30.00!
If you would like to purchase this DVD on sale for $15.00 when you purchase ten or more books for group study, please email me at
DMCOBoyle@aol.com
to inquire how it is done.