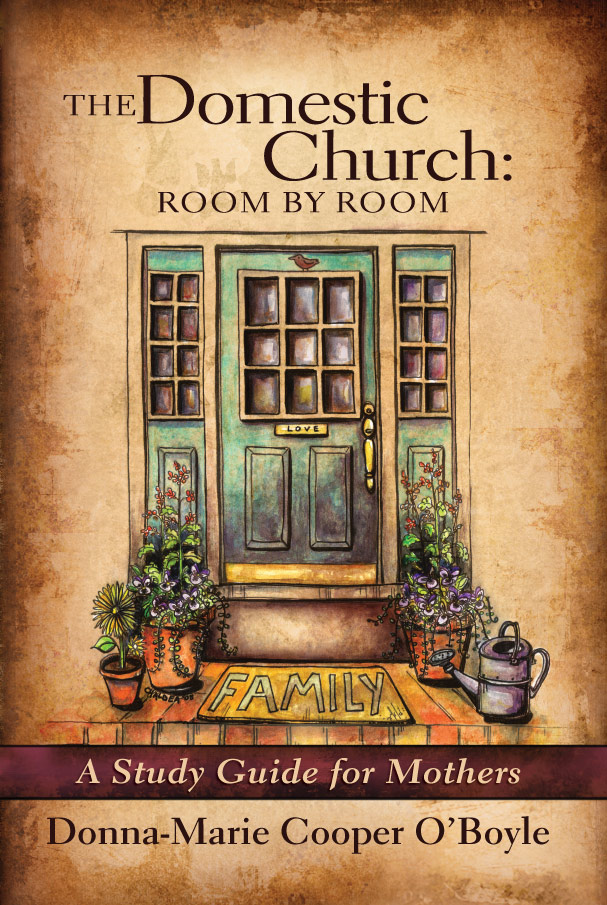 You are now able to pre-order
The Domestic Church: Room by Room
! It is scheduled to be released around mid October. This book is a Catholic mother's study guide which can be participated in a group setting, sharing faith and insights with other Catholic mothers or studied individually. It is 256 pages long!
From the National Catholic Register:
The Domestic Church Room by Room
By Donna-Marie Cooper O'Boyle
"Pope John Paul II wrote that the "little domestic Church, like the greater Church, needs to be constantly and intensely evangelized: hence its duty regarding permanent education in the faith." That's a tall order for busy Catholic mothers. You might even say it's as big as a house: You wouldn't want to clean the whole thing in one fell swoop but, if you take it one room at a time, you'll get the job done. In a systematic course that's equally useful for groups and individuals, this talented author shows how to remodel your home after the spiritual design of Holy Mother Church.

Widely published and deeply experienced in both family life and religious life, Donna-Marie Cooper O'Boyle counted Blessed Teresa of Calcutta among her personal friends. She maintains numerous websites and has founded several Catholic apostolates and ministries."
*********************************************************************************
This book retails for $18.95. I am offering a 10% discount on all pre-orders that come in on or before September 30th! I will be setting up Pay Pal soon. In the meantime, you may email me at DMCOBoyle(at)aol(dot)com to order. I will give you details in an email regarding the shipping and handling and address to send the payment to.
On orders of 10 copies or more (for group studies) there is a 10% discount and adjusted shipping and handling fee by using this Pay Pal button (only for orders of 10 copies of
The Domestic Church Room By Room
or more).