Donna-Marie's NEW BOOK: ENDORSED BY ARCHBISHOP TIMOTHY DOLAN!
Coming soon! To be released in January 2012 but can be pre-ordered now!
An audio version will be available too!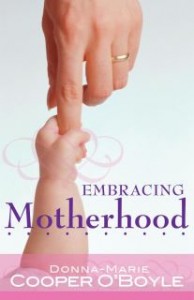 Book Description
PRE-ORDER EMBRACING MOTHERHOOD BOOK HERE:
SPECIAL OFFER - ONLY $6.OO (retails for $12.00) FOR THE NEW CD OF DONNA-MARIE'S RECENT TALK: "CHANGE: A WOMAN'S MIDDLE NAME" (ABOUT MEETING CHANGE AND CHALLENGE WITH GOD'S GRACE WITH ADDED INSPIRATION FROM BLESSED MOTHER TERESA) WHEN PRE-ORDERING "EMBRACING MOTHERHOOD!"

ORDER HERE to receive BOTH book and CD!: